English-language group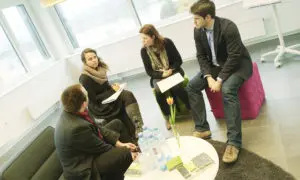 For a long time now, it has not been enough for an organization to focus solely on its website. The digital environment is complex, challenging and exciting. This group covers the entire range of outlets from the website to social media. Concepts and strategies for digital communications are developed, and experiences from campaigns and digital projects are discussed.
Organizations participating in the meeting include, WWF, ISO, Richemont, UNICEF and Swisscom, among others.
The first meeting for you is free of charge.
Agencies and consultants may not participate. The group is completely ad-free and confidential. To facilitate a stimulating and open exchange, the meetings are limited to about 20 participants.
Typical job titles/roles of participants
Head of digital
Head of online
Digital managers
Those responsible for digital initiatives
Online managers
Members of an organization's online or digital team
Marketing managers
Business-savvy IT managers responsible for digital projects, new media, …
Which digital topics are covered?
Common topics discussed in the digital management meetings include:
Current digital projects
Digital and content strategy
Independent experiences with agencies and providers
Website concepts
Analytics & business value
Roll of a digital leader
Trends & ideas
Current campaigns
Integration offline & online
…
How often does the expert group meet?
The expert group Digital Communications Geneva meets 4 times a year. Each meetings takes place at one of the participating organizations in the vicinity of Geneva.
What does it cost to participate?
The first meeting is free of charge.
>> Register today for your free meeting!
Regular participants pay a contribution that covers the meetings' organization, expenses for guest speakers, food, documents and reports as well as participation in my.advatera.com. This ensures that the meetings remain independent and ad-free.
Membership in the expert group: € 2.250 (excl. VAT, 12 months)
That's less than two days with a consultant will cost you for your projects. The experience exchange will certainly save you those costs.
Additional seats are available at a reduced price.
Membership is not exclusive to a single person – you can send a colleague at any time.
Guest participation in other groups, including international expert groups, is possible at any time.
Agencies, consultants or other providers do not participate. The meetings are completely ad-free and independent.
Completely risk-free: You can terminate your membership at any time without prior notice.