Social Media Experts Europe

Experience Exchange for Social Media Managers
English-language group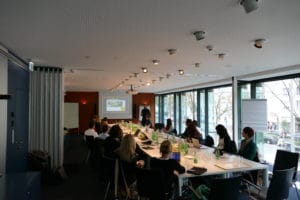 The social media expert meetings are for all those who are responsible for social media in mid-size and large organizations. This group meets about 5 times a year with a meeting focus in Germany, Austria and Switzerland. At least one meeting per year takes place in London, Paris or another European city to include experts from these regions in the exchange.
Participate in the next meeting…
Of course, strict criteria of independence are a prerequisite for Advatera expert groups. Representatives of software or consulting firms are not admitted as participants, which guarantees an open, confidential and completely ad-free exchange.
Typical job roles of participants
Social media manager
Social media team member
Communications manager
Marketing manager
Which social media topics are covered?
Common topics discussed in the social media meetings include:
Current campaigns within the group
Developments in crucial platforms
Social media trend scouting
Social media tracking & tracing (analytics)
Social media strategy & governance
Reaction to news
Social media editorial concepts
…
Where does the social media experience exchange take place?
The group meets 4 times a year in Europe, mainly at one of the participating organizations in Austria, Germany, Switzerland and the UK.
What does it cost to participate?
The first meeting is free of charge.
>> Register today for your free meeting!
Regular participants pay a contribution that covers the meetings' organization, expenses for guest speakers, food, documents and reports as well as participation in my.advatera.com. This ensures that the meetings remain independent and ad-free.
Membership in the expert group: € 2.250 (excl. VAT, 12 months)
That's less than two days with a consultant will cost you for your projects. The experience exchange will certainly save you those costs.
Additional seats are available at a reduced price.
Membership is not exclusive to a single person – you can send a colleague at any time.
Guest participation in other groups, including international expert groups, is possible at any time.
Agencies, consultants or other providers do not participate. The meetings are completely ad-free and independent.
Completely risk-free: You can terminate your membership at any time without prior notice.
This post is also available in: German